Автор - Alex Lee Martinez
Книги автора Alex Lee Martinez, полные версии в открытом доступе открыты для чтения. Бесплатная библиотека
loveread.online
предлагает для чтения онлайн все книги автора Alex Lee Martinez. Читайте с комфортом!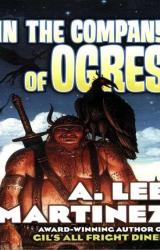 Автор
:
Alex Lee Martinez
Жанр
:
Иностранная литература
An uproarious new novel in the tradition of Robert Asprin and Terry Pratchett! For someone who's immortal, Never Dead Ned manages to die with alarming frequency-he just has the annoying habit of rising from the grave. But this soldier might be better dead than face his latest assignment. Ogre Company is the legion's dumping ground-a motley, undisciplined group of monsters whose leaders tend to die under somewhat questionable circumstances. That's where Ned's rather unique talents come in. As Ogre Company's newly appointed commander, Ned finds himself in charge of such fine examples of military prowess as a moonstruck Amazon, a very big (and very polite) two-headed ogre, a seductively scaly siren, a blind oracle who can hear (and smell) the future, a suicidal goblin daredevil pilot, a walking tree with a chip on its shoulder, and a suspiciously goblinesque orc. Ned has only six months to whip the Ogre Company into shape or face an even more hideous assignment, but that's not the worst of his problems. Because now that Ned has found out why he keeps returning from dead, he has to do everything he can to stay alive. . In the Company of Ogres does for fantasy, what A. Lee Martinez's previous novel, Gil's All Fright Diner, did for horror-and elves and goblins may never be the same!
О книге
---
Автор
:
Alex Lee Martinez
Жанр
:
Иностранная литература
Welcome to Gil's All Night Diner, where zombie attacks are a regular occurrence and you never know what might be lurking in the freezer…. Duke and Earl are just passing through Rockwood county in their pick-up truck when they stop at the Diner for a quick bite to eat. They aren't planning to stick around-until Loretta, the eatery's owner, offers them $100 to take care of her zombie problem. Given that Duke is a werewolf and Earl's a vampire, this looks right up their alley. But the shambling dead are just the tip of a particularly spiky iceberg. Seems someone's out to drive Loretta from the Diner, and more than willing to raise a little Hell on Earth if that's what it takes. Before Duke and Earl get to the bottom of the Diner's troubles, they'll run into such otherworldly complications as undead cattle, an amorous ghost, a jailbait sorceress, and the terrifying occult power of pig-latin. And maybe-just maybe-the End of the World, too. Gory, sexy, and flat-out hilarious, Gil's All Fright Diner will tickle your funnybone — before ripping it out of its socket!
О книге
---